RezStream
and Availability Online have a two-way interface. The first function of this interface allows you to automatically update your Availability Online calendar from your RezStream software. You will not need to login to your Availability Online Administration to update the calendar's availability if you use RezStream.

The second function of the interface allows Availability Online reservation requests to be downloaded into your RezStream software. You will have the option to Accept or Decline these reservations in RezStream.
To Configure Auto Updating in RezStream Desktop
Open your RezStream software

Click Tools then select Online Availability

Under the Availability Services tab place a check mark in the Upload Availability box

Rate to upload: leave at Rate 1

If you would like to download your Availability Online reservations into your RezStream software place a check in the Accept online requests** box.

**Accepting Online Requests will allow your Availability Online reservation requests to be automatically downloaded into your RezStream software. You will be able to "Accept" or "Decline" these requests after download. If "Accepted" your guest's reservation information can be automatically inserted into your RezStream software saving you and your staff from retyping reservation information. You will still receive e-mail notifications from Availability Online if you choose to download reservations into RezStream.
Enter your Availability Online username and Master password in the Username and Password fields.

If you will be downloading Availability Online reservations, enter your Availability Online Master password in the Req. field.

Click the Update Frequency Tab at the top and select the update frequency option of your choice. Please contact RezStream if you are unsure which update option is best for you.

Click the Close button.

Again click Tools then select Unit and Rate Setup

Click on the Individual Units

Place a check in the Include in Online Availability box for each unit you would like to include on your Availability Online calendar.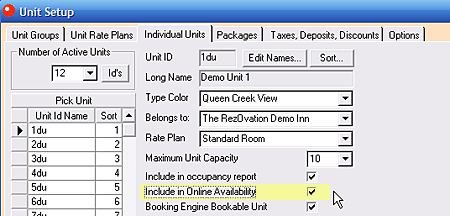 Click the Close button

To Update Availability and Download Reservations
Click the Globe icon in your RezStream menu. If you chose to download Availability Online reservation requests into RezStream, these requests will come into the software at the time of update.



IMPORTANT NOTES: There is anywhere from a 5 to 15 minute delay between the time you send your update and when changes will appear on your calendar. Be sure you have the same number of rooms selected to be included in your RezStream update as you have in your Availability Online account.




For additional set up support or questions regarding updating you can contact Availability Online or RezStream.
RezStream

Website: http://www.RezStream.com | RezStream Support: support@RezStream.com


For additional assistance:
Email Support: support@availabilityonline.com | Phone Support: 888-487-1456 or 802-774-1124